LongArm Lynda at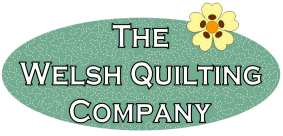 Gallery of Client's Quilts
Below are just a few examples of client quilt tops that I have had the pleasure to work on. For my latest work see my Facebook page.
Lesley's Quilt
Here is a fabulous quilt designed and created by Lesley Corrie and quilted by The Welsh Quilting Company. Lesley wanted feathers in the Mariners Compass and an anchor motif in each corner.
All of the quilted designs are originals created by me using Quilt Path. Ruler work and freehand fillers complete the look and enhance Lesley's beautiful piecing to perfection.
This is a stunning quilt and was an honour to work on. Thank you and well done Lesley.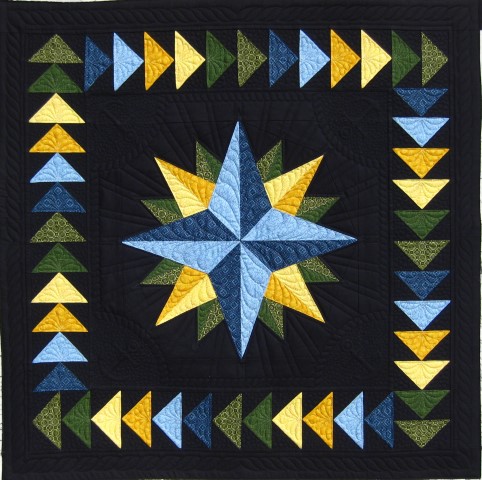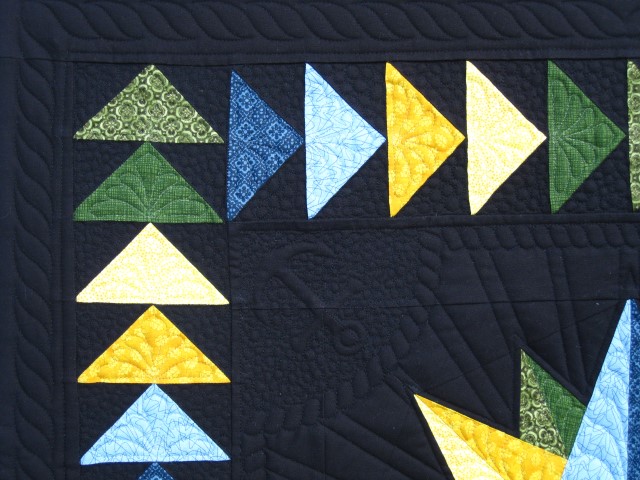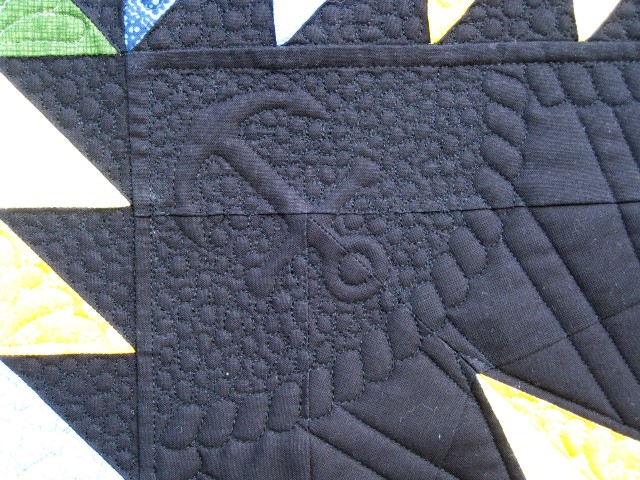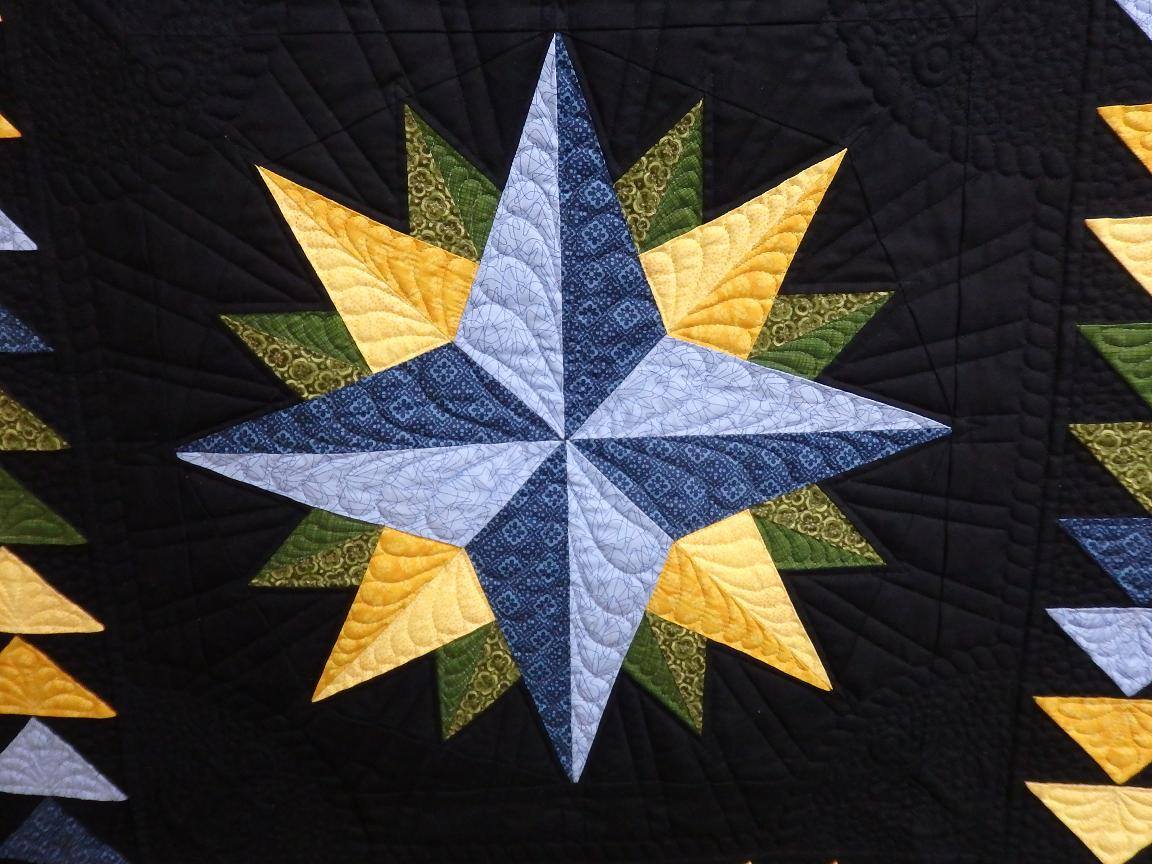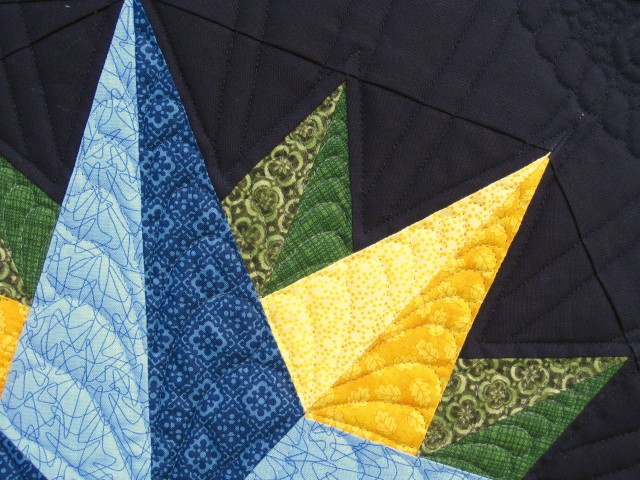 Lynda's Quilt
Every year around October, Bonnie Hunter, a renowned American quilt designer, announces the fabric requirements for a Mystery Quilt, the piecing details of which are then released weekly over a couple of months. This was my first participation and I thoroughly enjoyed the experience of joining thousands of fellow quilters from around the globe. The colours are not Bonnie's suggested ones, I decided rather on colours from my garden which depicted outdoors Anglesey at that time.
The Welsh Quilting Company (me) used ruler work and Quilt Path techniques, including bespoke patterns, together with 6 different colours of Aurifil thread to quilt individual blocks thus ensuring that the quilting did not compete with the overall design. It was a challenge since there are over 2,700 pieces!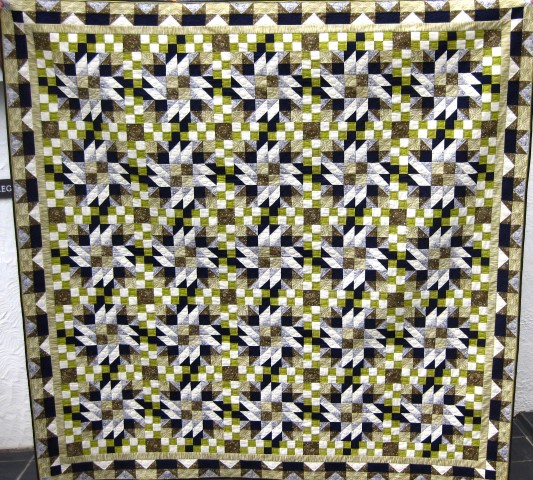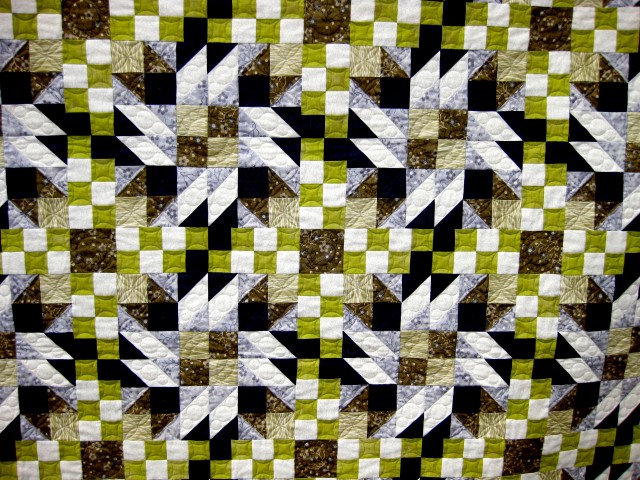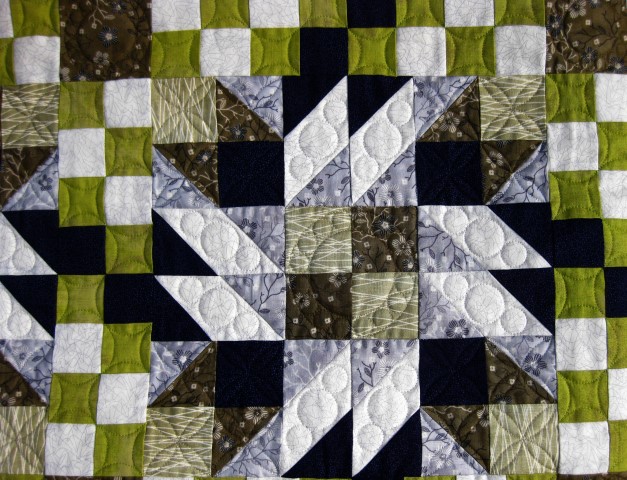 Rosie's Quilt
Please enjoy this beautiful quilt created by Rosie Lloyd as a gift for her son. It is named "Ysbryd y Môr" which means "Spirit of the Sea".
Rosie used a Bali Pop for the piecing and we decided on a large wave edge to edge pattern for the quilting. "Ysbryd y Môr" was exhibited at the Llandegai Patchers Exhibition in Menai Bridge where Rosie's son saw the quilt for the first time. Great job Rosie.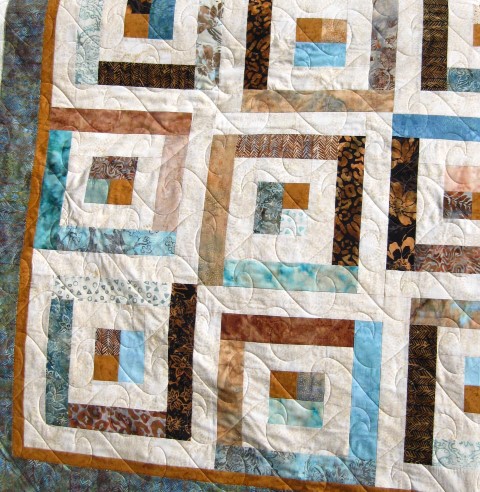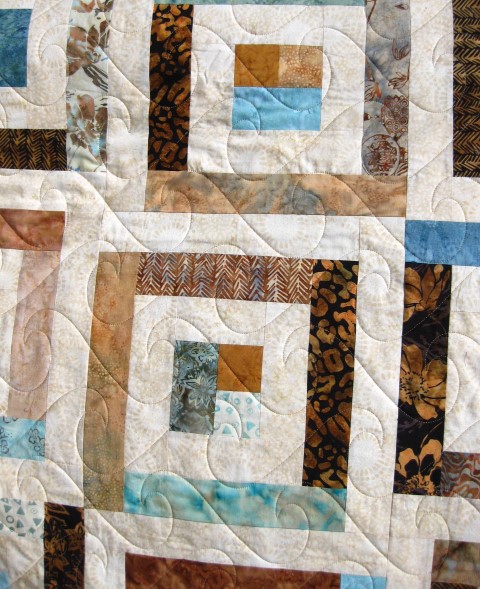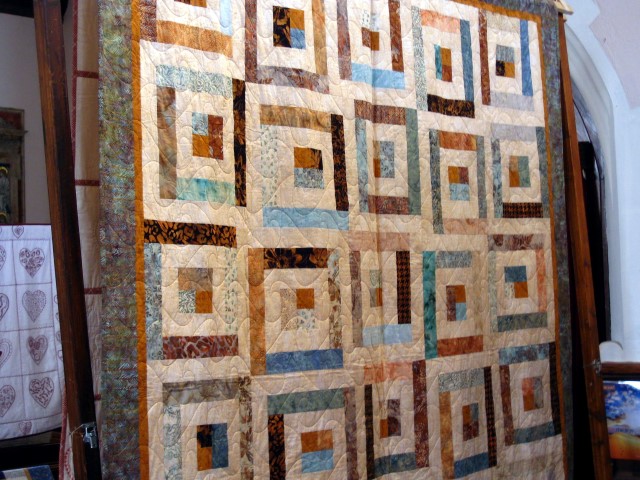 Kath's Quilt
This is a scrap quilt by Kath Woods, she initially wanted an edge to edge leaf design, however, once she saw my sample of little owls designed by The Quilters Quilter in Australia, she was hooked. A variegated orange Aurifil thread really made the colours pop.
This is one of those quilts that make you smile and Kath has aptly named it "What a Hoot". It looked superb hanging at the Llandegai Patchers exhibition in Menai Bridge. Thanks for sharing and creating this fun quilt Kath.
Contact me today if you would like this super little owl pattern on one of your quilts.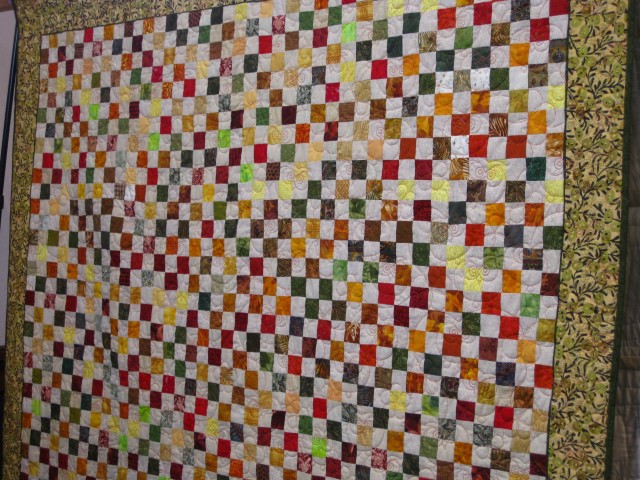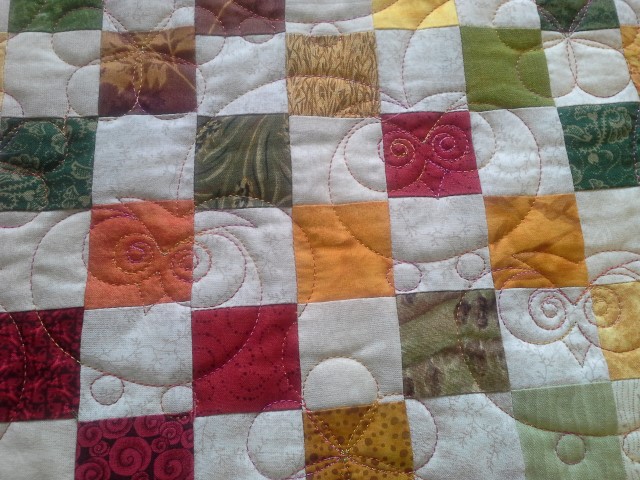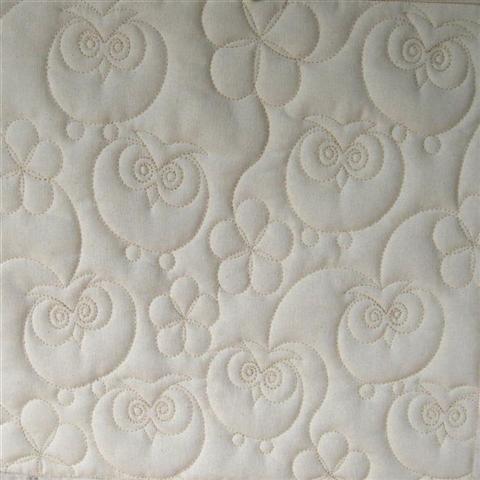 Christine's Quilt
The quilt below was displayed at Menai Bridge and was created by Christine Thomas whilst attending a course by Gwenfai Rees Griffiths.
Christine did not want heavy quilting, especially around the applique so we went with a large feather design for the borders and medallion. I outlined the applique and stitched-in-the-ditch for stability elsewhere. This quilt is a real stunner - well done Christine.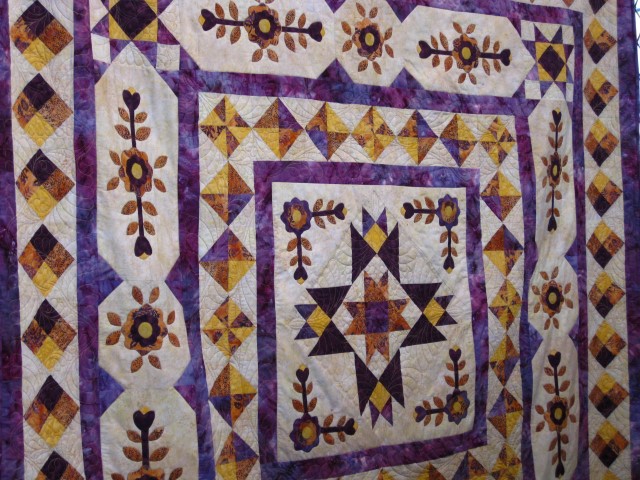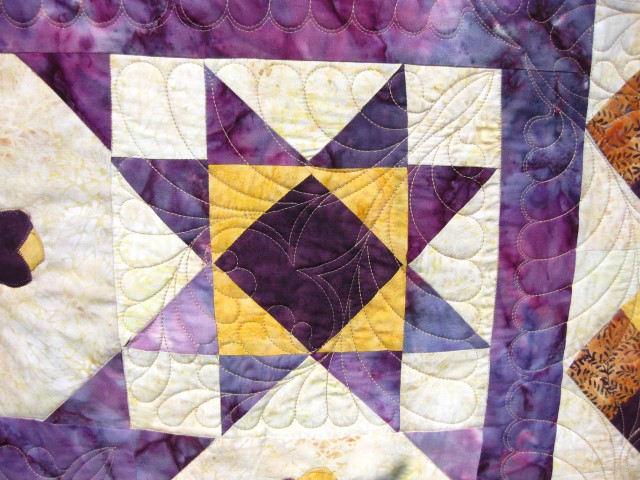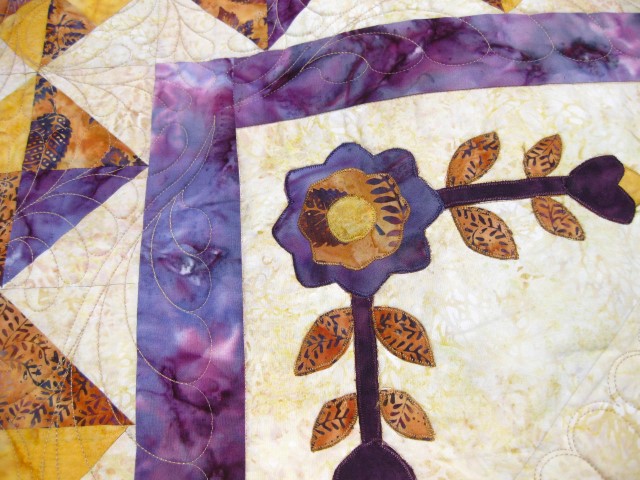 Joan's Quilt
This is a quilt by Joan Glass which she pieced by hand over a period of 7 years! We went with a large spiral quilting pattern which really gives the quilt top movement and modernizes the traditional hexie pattern.
The Old Gold Aurifil thread blended beautifully with all the colours Joan used. It is such fun quilt - well done Joan.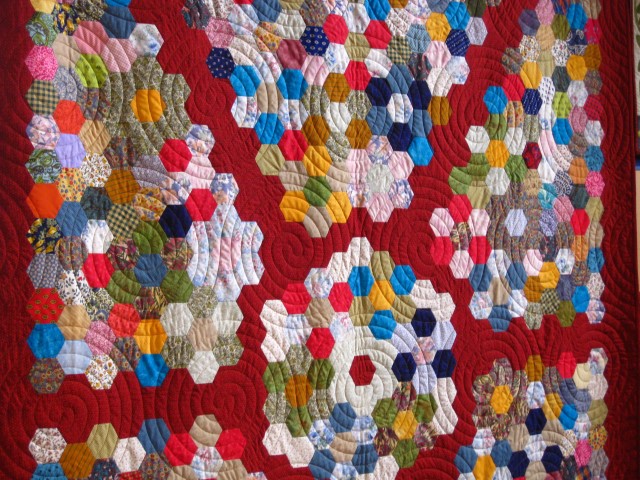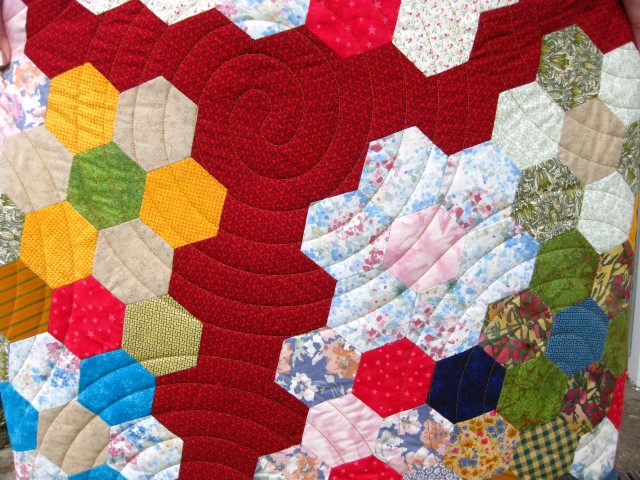 Linda's Quilt
Many years ago Linda wanted to make a quilt out of a jelly roll and so she pieced the top shown below and in that state it remained. Then in May 2015 Linda and I met and she chose this beautiful daisy edge to edge design which really complements the cheerful spring colours of the top.
This is one of those quilts that make you smile when you look at it. It really is very cheerful and was a pleasure to work on.I am really pleased that we have breathed new life into this pretty quilt top so that Linda and her family can enjoy it for many years to come.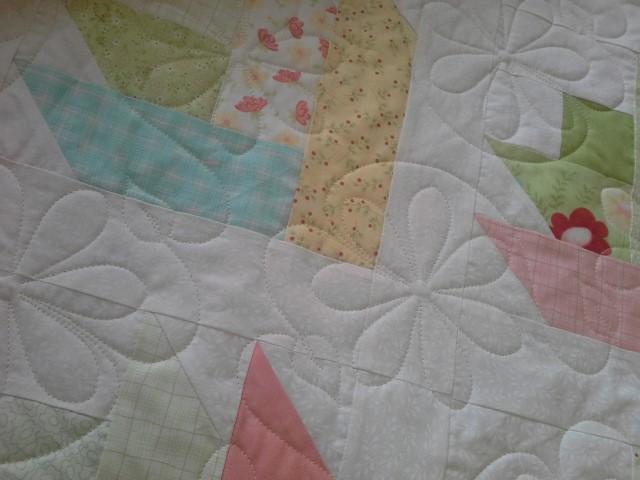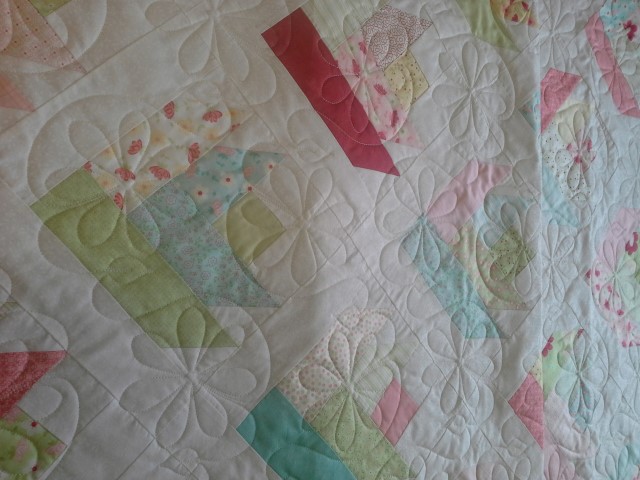 Pearl's Quilt
Here is a lovely quilt by Pearl which was completed at the beginning of this month. Even though the quilt top pattern consists of bold straight lines, Pearl's choice of a feathered leaf edge to edge quilting design teamed with the muted colour palette of mocha and duck egg blue, gives this quilt a beautiful soft look.
Whilst working (chatting) at our quilting group we were fortunate enough to be paid a visit by Pearl who dropped in to finish off the binding. The second picture shows the completed piece - Well done Pearl.
Watch this space for a quilt that is of the same pieced design but because of the fabric choice and quilting it has a completely different look.........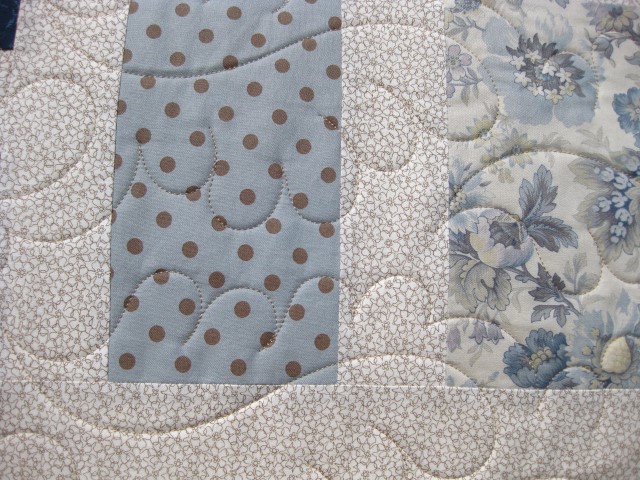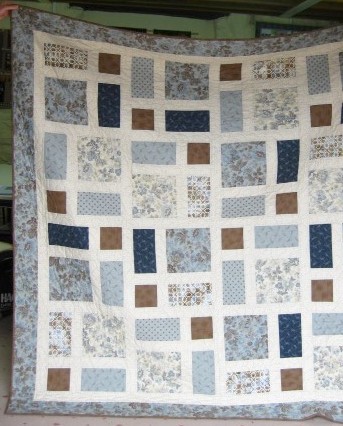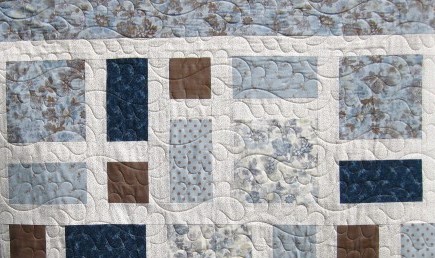 Lily's Quilt
Please enjoy this beautiful quilt I had the pleasure to work on back in April. Lily made this quilt as a gift for her daughter, Alex. Lily had hand appliqued 3 enormous panels, strip pieced 4 panels of equal size and then added sashing and a final border. The vibrant colours of the applique against the white fabric look really fresh and cheerful.
Alex wanted the quilt to be soft and not heavily quilted. The edges of the applique were carefully stitched around then a large meandering pattern was applied to the white background. The meandering pattern was chosen by Alex because it appeared on a quilt that her own daughter already had. A modern feather block design was placed on the strip panels and a complementary border pattern finished the look. Just gorgeous.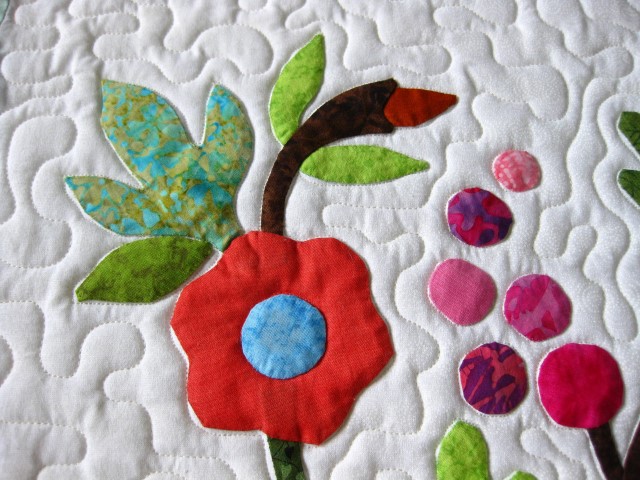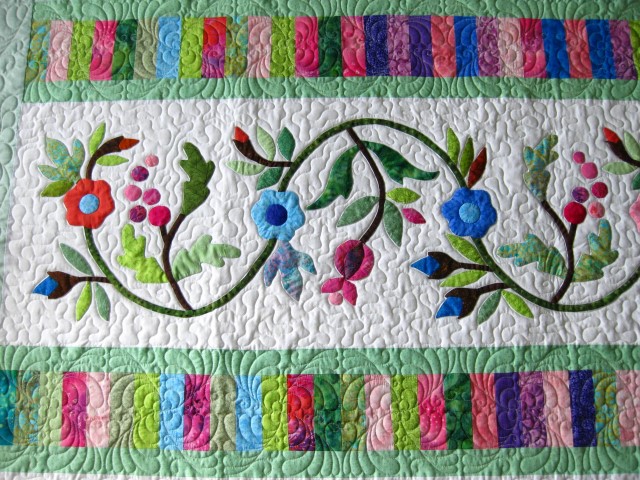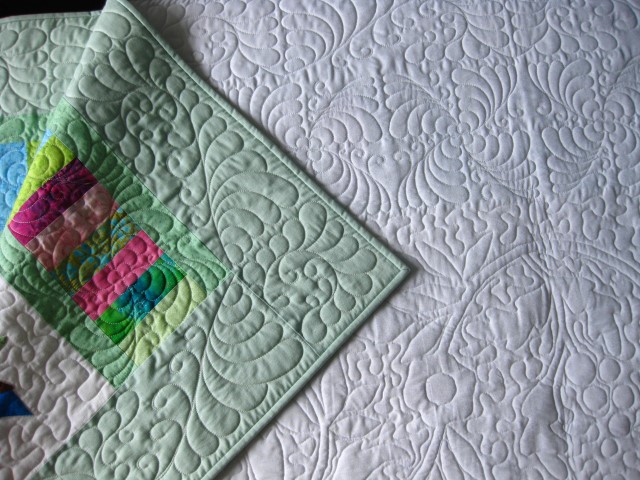 Buddug's Quilts
I am extremely pleased to share the second commission we received from Buddug. As I am sure you will agree, this quilt is stunning. Buddug really has an eye for colour and fabric combination.
The brief from Buddug was that she did not want heavy quilting, especially around the appliqued flowers and circles. I carried the circular theme into the quilting and incorporated hearts in various forms, one of which is a four leaf clover (for 'good luck').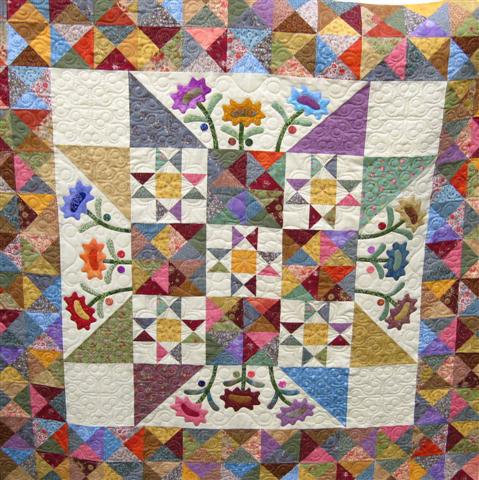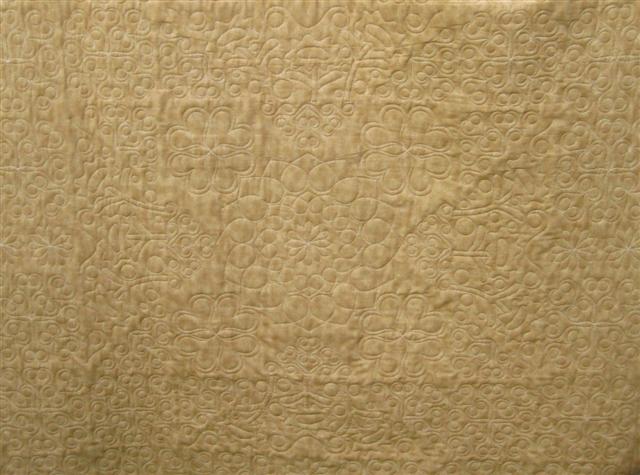 This is Buddug's 'Tan Lan Star' quilt which is taught at a local Anglesey quilting group. Buddug made this quilt for her 8 year old grandson and I was thrilled when she chose the Jigsaw pattern which I designed using Quilt Path.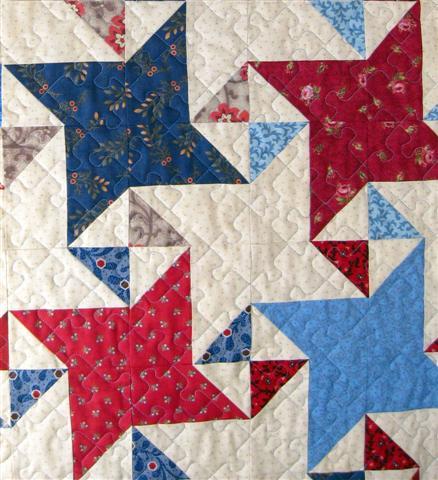 Jean's Quilts
On Monday 13 April 2015 at Llandegai Patchers, Jean Smith gave a fabulous talk on her quilting life, which included many pieces of original artwork in addition to a mountain of quilts, three of which were quilted here at The Welsh Quilting Company and can now be shared with you.
Here is the first one! Jean asked me to finish off the quilting since it arrived already sandwiched and part stitched-in-the-ditch. With the fall colours and stunning leaf border I had to chose a leaf pattern. Irregular shaped pebbles were loosely scattered around to highlight the applique whilst keeping the quilt soft to the touch. Finally, straight lines were placed in the border since any quilting was really lost in the beautiful fabric that Jean had chosen.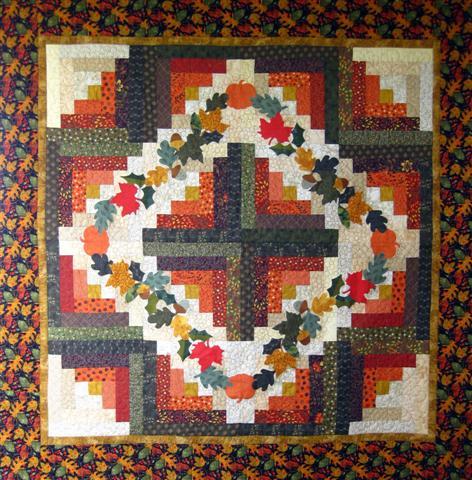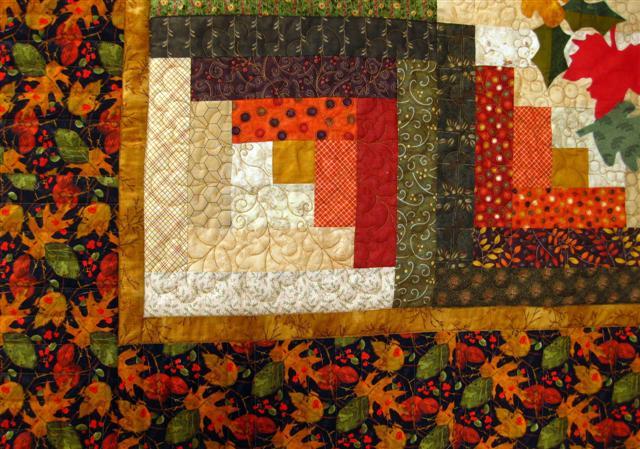 This is the second of the quilts included in Jean's talk to the Llandegai Patchers, it is a 'block of the month' basket quilt which Jean wanted heavily quilted in the beige triangle sections. I went with a feather design which was echoed throughout the boarder and frame. Individual designs were chosen for each basket and finished with background fillers if required.
These pictures really do not do this quilt justice since in reality the reds and blues are extremely vibrant. Plus - it is a HUGE quilt!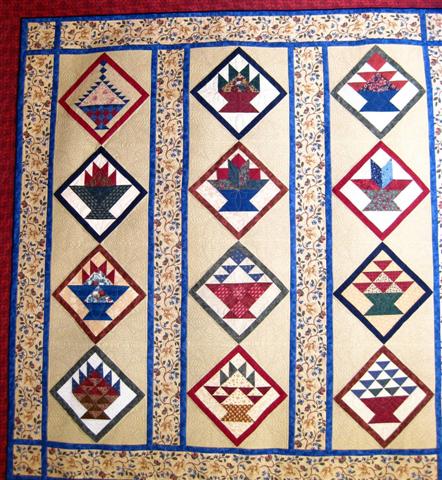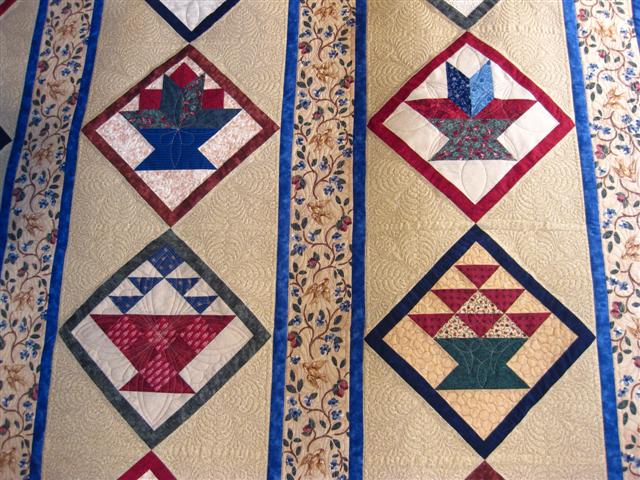 Welcome to Jean's last quilt included in the talk, 'Little Cabin in the Woods' which is based on Little House on the Prairie. Isn't it fun?
Jean loves a story with a quilt and also enjoys researching the history of an area or making connections to it. With this in mind I checked out Pennsylvania since Jean had mention it is where she lived when she pieced the top. Amongst many other emblems, the Pennsylvanian flag features wheat sheaves and a plough. Using Quilt Path I designed various wheat motifs for the border, frames and blocks. I also designed a wagon wheel for the four log cabin blocks - well you have to get to the cabin somehow!
Can you see the candle in the cabin window? Jean mentioned that it is tradition to leave a light on to welcome people home so let this quilt be forever welcoming to all.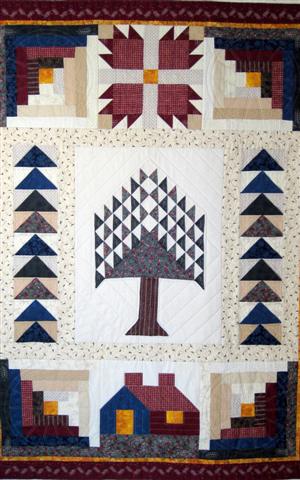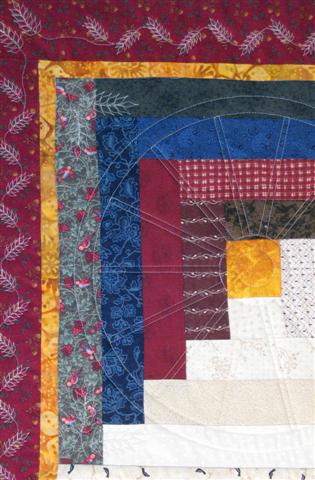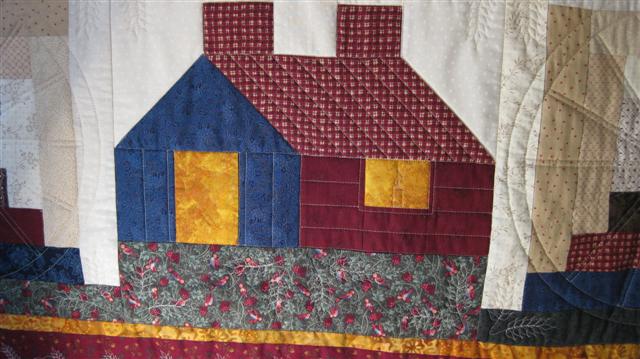 Iona's Quilt
I am proud to share Iona's beautiful quilt which she has made for her daughter. Iona decided on a heart design edge to edge pattern. There are only three colours in the quilt, but Iona's choice of fabric and attention to cutting and piecing make this a truly exquisite quilt.
If you would like to view this quilt in person, it will be exhibited from mid-April 2015 for six weeks at the Ucheldre Centre in Holyhead.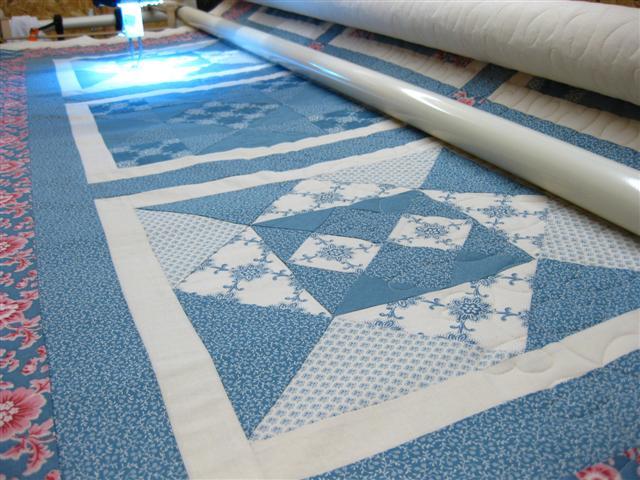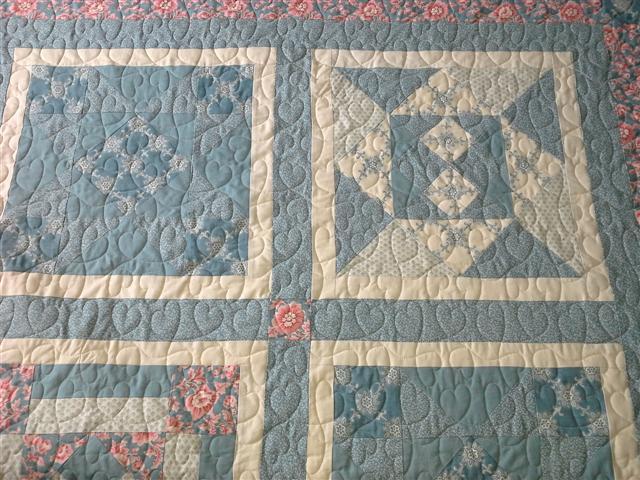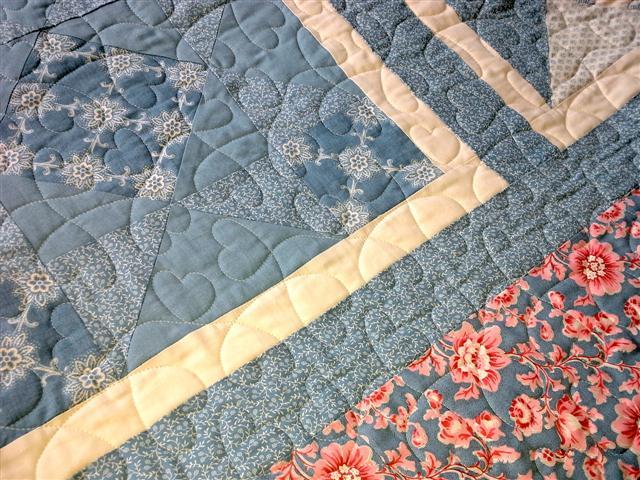 Angie's Quilts
Today I am sharing 'On a Pink Note' by Angie Monks. Some of you may recognise it as it was originally named PITA 1.
I love the way Angie has pieced the binding so you get splashes of various pinks on the edge.
Angie wanted a musical theme so I designed a block specifically for this quilt using treble clefs and quavers (not the edible kind - and other crisps are available). Angie chose variegated pink Aurifil thread 4660 which blends beautifully with the backing fabric which she hand dyed herself! Talented lady indeed.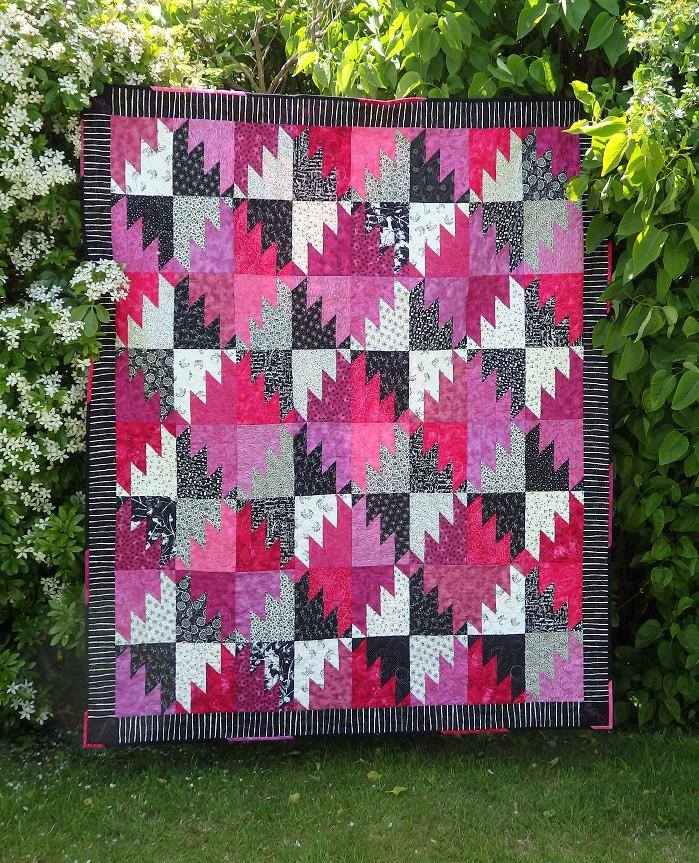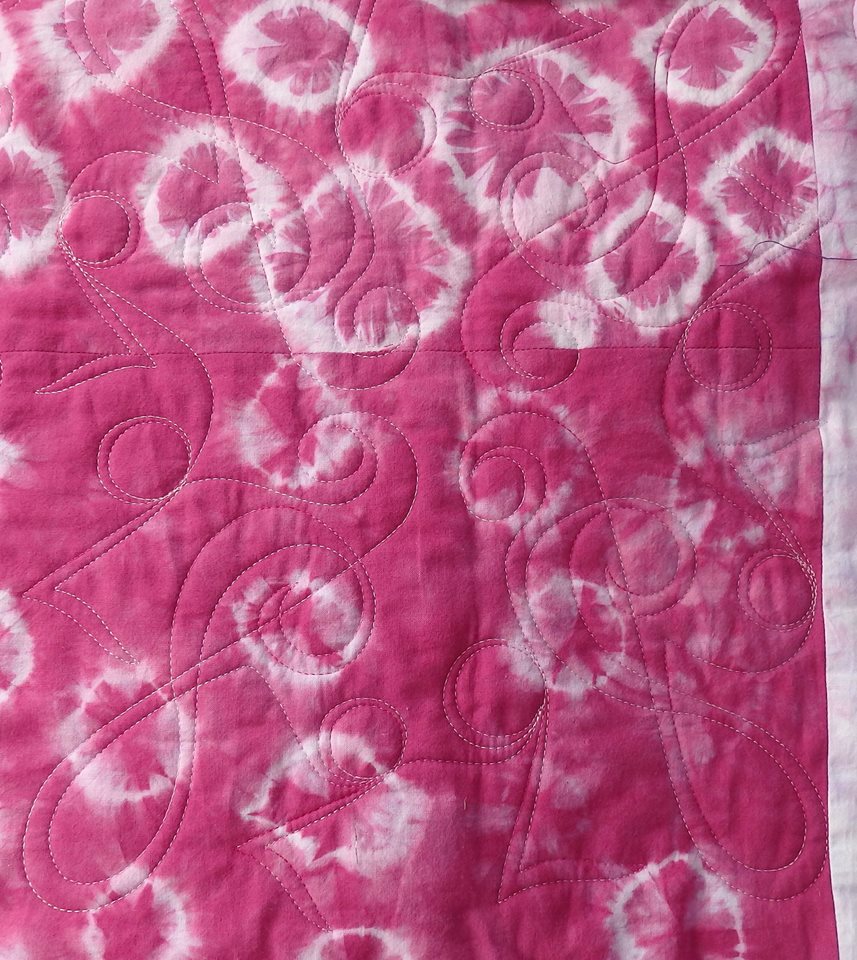 This is a Bento Box quilt by Angie which she created for charity. However, after I quilted it edge to edge with a frogs design, Angie decided to keep it. I knew of her froggie fondness and had to incorporate it into the design since the fresh greens and bright oranges of the quilt reminded me of a lily pond.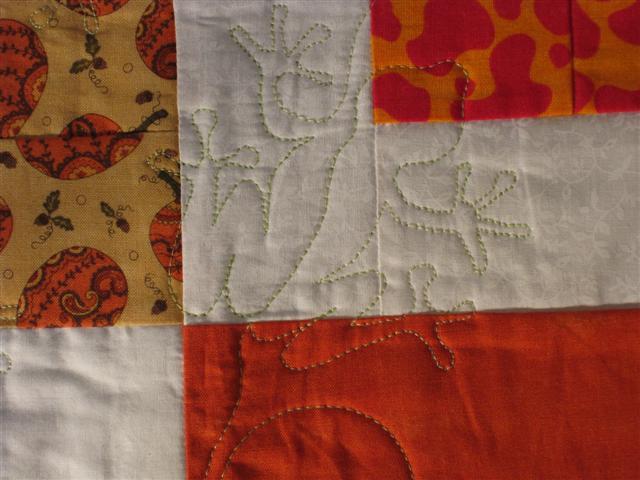 The second Bento Box quilt I received from Angie was custom quilted using a feather block design for the main body and a complementary feathered border.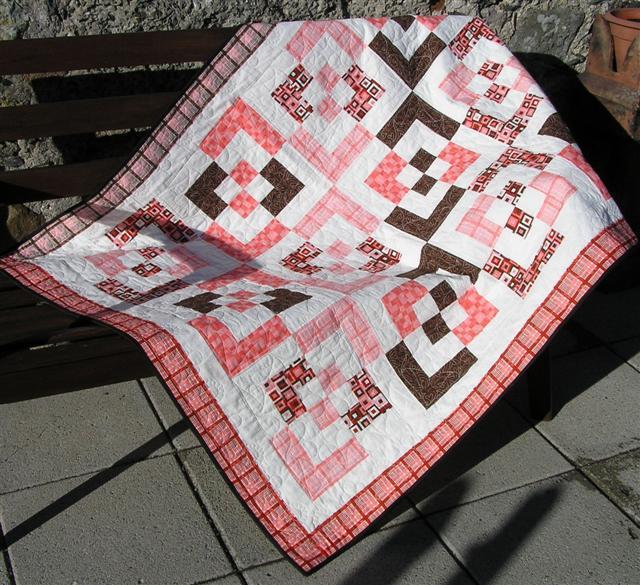 The third quilt from Angie was created using SOME of her scrap blocks. This was freehand custom quilted 'stitch in the ditch' round the black stripes to make them "pop" then individual patterns were stitched to complement each fabric block.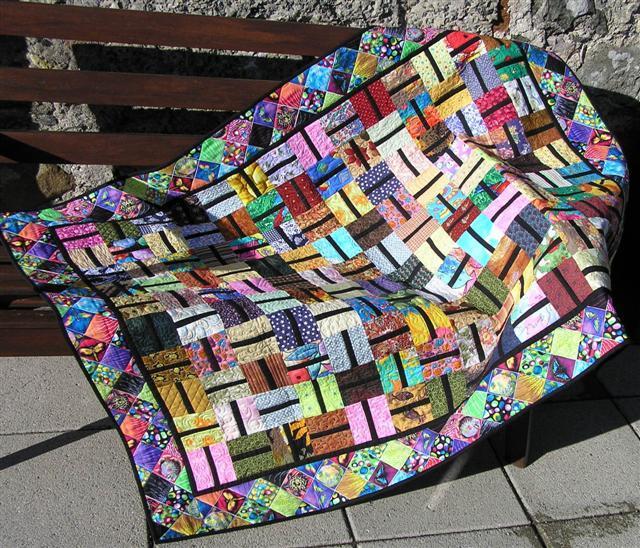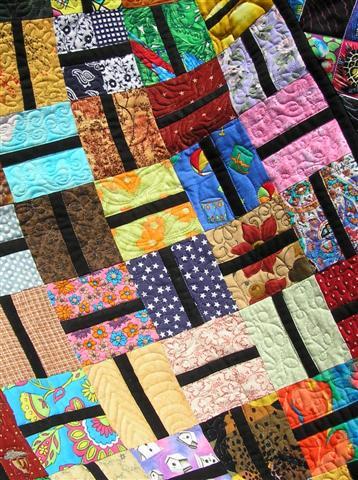 Pat's Boat Qulit
This quilt was a challenge since it arrived already sandwiched and was part quilted. Pat wanted a boat motif placing in the blue part of the four blocks and a wave design quilted round the boarder. Using Quilt Path, I designed a sail boat which was placed, re-sized and rotated throughout the quilt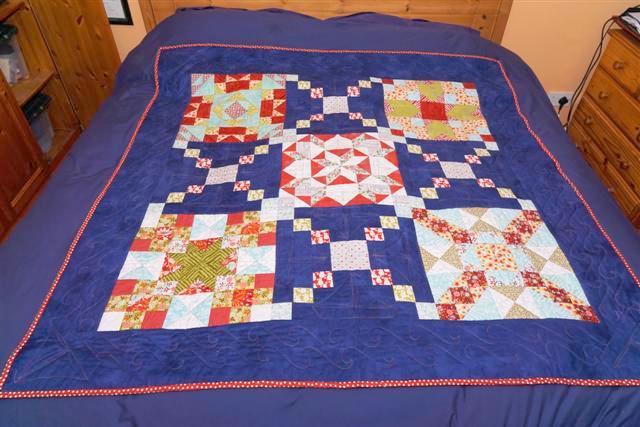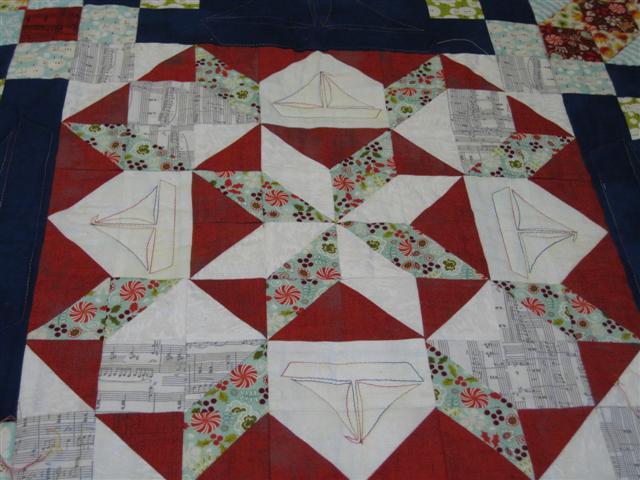 Doreen's Quilts
Doreen created this quilt as a gift for her son and I think she has done a fabulous job. She chose a simple edge to edge design for the quilting.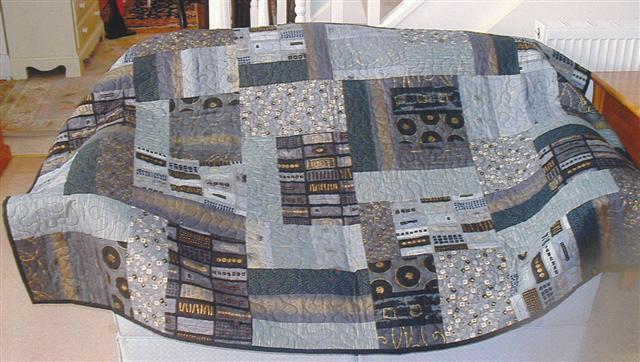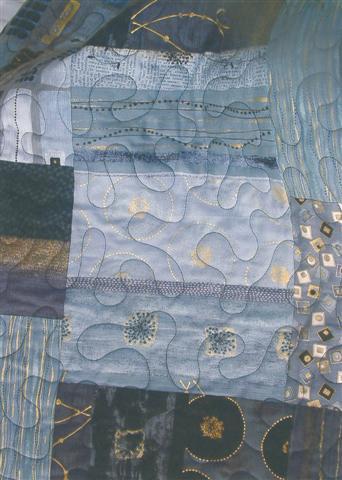 Isn't this quilt by Doreen lovely? It is our second commission from Doreen and this time she chose a fluid flourish edge to edge design which complements the fabric beautifully. Cream Aurifil thread was used for the quilt top, however, Doreen wanted the quilting to stand out on the plain fabric reverse, so we chose a soft grey Aurifil thread, which now makes this quilt truly reversible.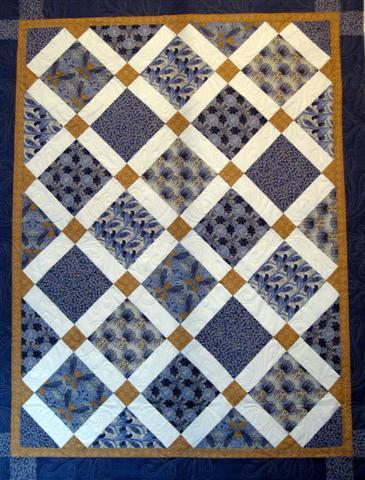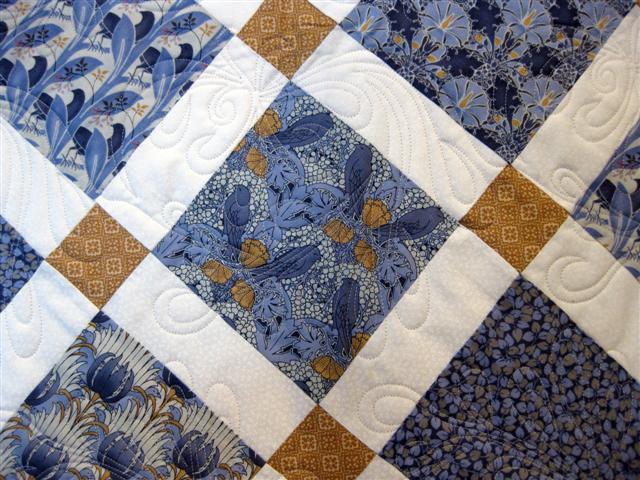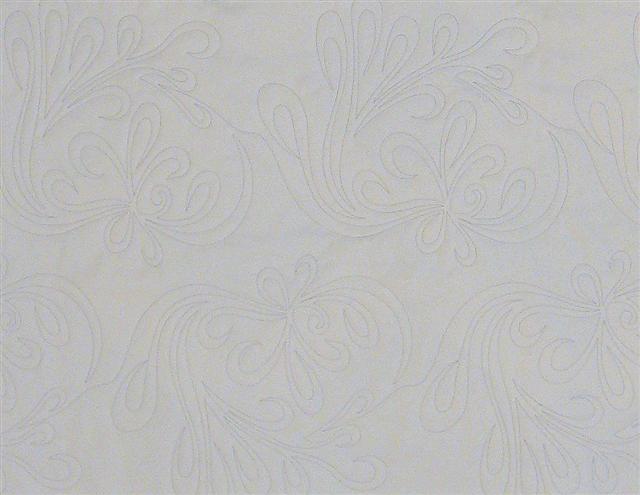 Shelia's Quilt
This quilt was made by Sheila as a Christmas gift for her daughter. Sheila wanted the quilt to be cuddly and soft so we went for a light edge to edge flower design.